VFD Motor Market Analysis
In GMR Analytics' VFD Motor Market Analysis report, Global Variable Frequency Drives Analysis, several important market drivers are noted, including global economic growth. "This growth is attributed to the increasing infrastructural activities including construction of hospitals, and educational institutions, strict regulations related to energy efficiency, reduction of life cycle cost, and optimized energy use."
This growth is evidenced by the number of such projects tracked in the CMD construction database, which saw a five year compounded annual growth rate (CAGR) of 16% between 2013 and 2017 in the US. During those years over 231,000 projects were planned.
And because stringent government directives to reduce greenhouse gas emissions have continued to influence the construction market, variable frequency drive (VFD) attachment rates have similarly increased in order to save energy and to meet sustainability targets.
One key question is "What are the current VFD to integral HP motor attachment rates?" This data is not readily available, so we studied several industry reports on integral HP motors to calculate an estimate of the attachment rates for VFDs to integral HP motors.
The actual attachment rates vary in specific global markets. For example, in Asia they were about 21% in 2017, and are expected to grow to 29% by 2021. On the higher side the US VFD attachment rates were about 44% in 2017 and are expected to grow to 60% by 2021. Globally the attachment rate in 2017 was about 31% with a growth expected to reach 42% by 2021.
In some cases, such as air handlers, the attachment rate for VFDs are estimated to be about 80% by some in the industry. Regardless of the specific application, we know that the attachment rates are increasing in many common industrial and commercial equipment categories, including:
Fans and air handling equipment
Air conditioning
Chillers
Compressors
Evaporators
Pumps
Refrigeration
Industrial automation
Process industries
Material handling and many others
And it is not only in the high power drives where we see strong growth, but also in low power and medium power drives as well. Average CAGRs for VFDs are expected at 12% between 2017 to 2021.
Motor design and government efficiency standards are also driving this trend. In the US, all electric motors must be NEMA Premium motors, which are not only more efficient but also have winding insulation suitable for VFDs. So one could ask "Does this mean that all motors sold in the US are set up to be operated reliably by VFDs?" The unfortunate answer is no. Motor bearings are often still vulnerable to bearing currents and fluting failure - that is, except for the motor lines which have shaft grounding rings factory installed or added to the motors as a repair or retrofit.
What should be done to ensure motor reliability?
The NEMA Premium motor design requirement does not have a specification for bearing protection. This was likely because initially not all motors were envisioned to run on VFDs, but now with higher attachment rates this situation has dramatically changed. When 40% to 80% of NEMA Premium or IE3 motors run on VFDs, the need for bearing protection built into the motor has become a reliability criterion specified by virtually all designers, consulting and specifying engineers, and even large and small industrial and commercial end users. Of course motors operated by VFDs must also have inverter rated windings, and if they are NEMA Premium they do! This eliminates the problem of winding to winding short circuits caused by insulation breakdown but it does not address the effects that VFDs have on the motor's bearings.

The bottom line?
Customers WANT this feature built into the motors they purchase or repair.
Motor manufacturers have stepped up to the plate. Today ABB (Baldor), WEG Electric, Marathon, LEESON, TECO Westinghouse, GE Industrial, and some Nidec motors have product lines with shaft grounding rings as standard catalog items. Others have an option program to add shaft grounding rings to the motors. Demand is growing exponentially for motors with shaft grounding rings installed by the manufacturer; tens of thousands of specifications are written requiring shaft grounding rings for new construction projects, often specifying that AEGIS shaft grounding rings be used because of their long service life and extreme reliability.
Market Trend Conclusions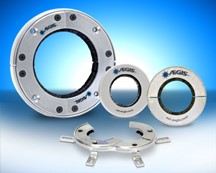 With the attachment rates of motors on VFDs increasing globally and specifically in the US and Europe reaching 60%+ in five years, the shift to a demand for "true inverter duty motors," those with both winding and bearing protection, continues to become the industry standard. End users are demanding motors that last, with reliability built-in and lower Total Cost of Ownership (TCO) while still capturing energy savings from the VFD. With our customers moving to add AEGIS Shaft Grounding Rings to all new and repaired motors, we are constantly being asked "Why don't all motors just come with AEGIS rings installed?"