Renewable Energy Industry: Motor Bearing Performance and Reliability
The use of renewable energy has increased rapidly over the past couple of decades, with wind, solar, geothermal, and other power sources at the forefront of today's sustainable energy solutions. Like any other industrial sector, the renewable energy industry relies heavily on electric motors to power equipment like pumps and ventilation systems. Such equipment used in the transport and processing of materials and running of power-generating facilities for the renewable energy industry depends in part on the performance of electric motors to create clean, sustainable electricity.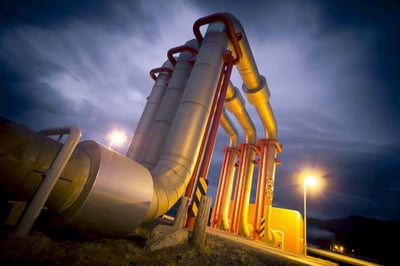 Like any machine used in industry, motors are assembled from components. When any of these components fail, it can affect motor performance, often resulting in motor failure and unplanned downtime. Not only is this expensive, but it also disrupts power generation, which is even more expensive. Motor bearings are particularly vulnerable, so many traditional power generating plants and those used by the renewable energy industry utilize bearing protection to protect motor performance. One way to optimize motor performance and protect bearings is by utilizing shaft grounding rings to protect motor bearings from electrical damage.
Why Motor Performance is Important to the Renewable Energy Industry
A major portion of energy used globally by many industries goes into running electric motors, so motor performance and efficiency is of utmost importance, including in the renewable energy industry. Many energy savings strategies involve using variable frequency drives (VFDs) and high-efficiency motors to improve efficiency and motor performance to reduce wasted energy. Numerous regulations and incentives have encouraged greater energy efficiency throughout many industries. These have followed exhaustive research and testing to promote energy-saving strategies that make economic sense. The renewable energy industry is no exception, with biomass, geothermal, and other renewable generation facilities employing VFDs to improve motor performance and optimize power generation.
Variable Frequency Drives
In a chapter on induction motors published by IntechOpen in 2023, the author notes several studies that look into decreasing industry operating costs using more efficient motors. This includes a study by the National Renewable Energy Laboratory (NREL) that found replacing standard motors with high-efficiency motors can reduce energy consumption by as much as 40 percent. VFDs can limit motor speeds to go no faster than the application demands, thus saving energy. The author also cited a Department of Energy (DOE) report noting that savings of up to 50 percent could be achieved using VFDs to augment high-efficiency motor performance.
VFDs are the descendants of the variable speed drives (VSDs) from the 1980s, built upon the century-old three-phase AC induction motor. The induction motor was more efficient than DC models, but controlling AC motor speed wasn't possible until the invention of VSDs. More compact than their VSD ancestors, today's VFD technology has allowed considerable precision in varying AC motor speeds while allowing motor control when running in both directions. Though VFDs offer little benefit for applications that don't depend on motor speed control, they have revolutionized motor performance and significantly decreased motor energy use.
VFDs & Bearings
As revolutionary as VFDs are, electric motors driven by them suffer more bearing damage. This is due to a voltage buildup, caused by VFD control, that discharges through the bearings. This damages the bearing surfaces and degrade lubricants. As it progresses, this damage causes vibrations leading eventually to bearing failure. Not only does this affect motor performance, but premature bearing failure limits productivity and increases downtime.
Case Studies: AEGIS®️ Shaft Grounding Rings for the Renewable Energy Industry
As more conventional power plants like coal, natural gas, and nuclear seek to make themselves more efficient, so does the renewable energy industry. Industry experts on power generation have developed two complementary ways in which to stem electrical bearing damage resulting from the use of VFDs.
The first method ensures that current from the shaft can reach ground without going through the bearings, which can be accomplished with a shaft grounding device like the AEGIS®️ Shaft Grounding Ring. The second method involves installing insulated bearings to prevent voltage from discharging through the bearings. These methods accomplish the same thing, with the insulated bearings capable of being combined with a grounding ring for even greater protection.
Geothermal Energy
Most often, energy generated through solar panels or wind turbines is the first type of power generation thought of as renewable. The energy industry utilizes both sources to produce sustainable electricity, though they won't produce power at times when the sun doesn't shine or the wind doesn't blow. The renewable energy industry also involves geothermal plants, which generate electricity by harnessing "hot spots" in the Earth's crust that can produce steam from groundwater.
Though geothermal energy is a very clean energy source, there are few places where it can be profitably harvested. Unlike solar or wind, geothermal energy provides baseload power, which means a geothermal plant can supply electricity continuously. Geothermal plants need to regulate the power generated, which is done partly by using VFD-driven pumps that circulate hot and cold water. Without bearing protection, those pump motors' bearings would need to be replaced frequently due to electrical bearing damage or total failure.
AEGIS® Shaft Grounding Rings protect bearings in various:
Auxiliary pumps, such as process, axially split single-stage and segmental ring section pumps
Circulating water pumps, including vertical wet-pit and horizontal single-stage pumps
Condensate extraction pumps, including vertical multi-stage canned and vertical turbine canned pumps
Heat transfer fluid pumps, such as multistage vertical pumps, overhung process pumps, and pumps used for secondary recirculation
Production well pumps like vertical deep well line shaft pumps
Re-injection well pumps work in high-pressure environments, such as axially split single-stage, process booster, and multi-stage barrel re-injection pumps
Millions of AEGIS® Rings have been installed globally to improve motor performance and increase bearing lifespan, including for VFD-driven pumping systems providing geothermal energy for the renewable energy industry.
At Electro Static Technology, we are so confident in AEGIS Rings that we offer a 2-year extended warranty against bearing fluting damage. No other form of shaft grounding offers a warranty like this.
To learn more about AEGIS shaft grounding and best practices for electrical bearing protection, sign up for a training. We offer monthly live training webinars, and we can also visit your facility to review your exact application.