5 Great Ways to Lower Risk for New Construction
As reported in Construct Connect Blog of June 1, 2018, U.S. Construction Spending Hit an All-Time Record High in April of 2018
06/01/2018 by Kendall Jones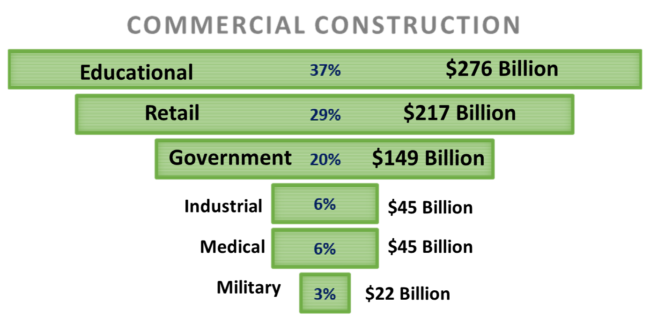 Commercial construction hit a healthy $747 Billion in April 2018 with 86% of the spending in Educational at $276 Billion followed by Retail at $217 Billion and Government at $149 Billion. With variable frequency drive (VFD) attachment rates (motors operated by VFD) increasing to 60% of motors by 2021, so does the risk of motor failure should the correct motors not be specified for use in the VFD driven systems.

The biggest potential failure mode is bearing fluting failure which often occurs within the first 3 to 12 months after commissioning. This failure mode results when bearing protection in the form of shaft grounding rings are not included in the specifications, usually found in the CSI section 23 05 13 where motors are specified.
Below we discuss 5 ways to mitigate the risk in new construction specifications:
Select the only bearing protection technology that includes a 2-year extended warranty against bearing fluting damage:

AEGIS Shaft Grounding Rings when installed by the motor's manufacturer or even when installed in the field by a motor repair company or contractor comes with a 2-year warranty against bearing fluting damage.

All AC induction motors are covered by this warranty - even the largest and most critical motors both Low Voltage supply and Medium Voltage Supply.

Motors must-have new bearings and the AEGIS ring installation, whether AEGIS SGR or AEGIS PRO Series, must be installed per the AEGIS Best Practices as published in the Bearing Protection Handbook.
Select and list motor manufacturers with AEGIS Shaft grounding Rings (ODP and TEFC) factory installed:

ABB (Baldor): ODP and TEFC up to 100 HP
WEG Electric: ODP and TEFC Up to 150 HP
TECO Westinghouse: ODP and TEFC up to 75 HP
GE: ODP and TEFC up to 300 HP
REGAL brands Marathon Electric and Leeson: General Purpose up to 50 HP and Cooling Tower 3 to 250 HP

Include the following language in the specification:

GENERAL REQUIREMENTS – SHAFT GROUNDING RINGS
All motors operated on variable frequency drives shall be equipped with a maintenance-free, conductive microfiber shaft grounding ring to meet NEMA MG-1, 3.4.4.4.3 with a minimum of two rows of circumferential microfibers to discharge damaging shaft voltages away from the bearings to ground. SGR's Service Life: Designed to last for service life of motor. Provide AEGIS SGR Conductive MicroFiber Shaft Grounding Ring, or approved equal.
Application Note: Motors up to 100 HP shall be provided with one shaft grounding ring installed on either the drive end or non-drive end. Motors over 100 HP shall be provided with an insulated bearing on the non-drive end and a shaft grounding ring on the drive end of the motor with the exception of line contact bearings in the drive end of the machine. In this instance, the line contact bearing must be electrically insulated and the AEGIS Bearing Protection Ring installed on the opposite drive end of the motor. Grounding rings shall be provided and installed by the motor manufacturer or contractor and shall be installed in accordance with the shaft grounding ring manufacturer's recommendations.

Specify Proper high-frequency Bonding by including the following language:

GENERAL REQUIREMENTS - HIGH-FREQUENCY BONDING: All motors operated on variable frequency drives shall be bonded from the motor foot to system ground with a high-frequency ground strap made of flat braided,
tinned copper with terminations to accommodate motor foot and system ground connection. Provide AEGIS HF Ground Straps, or equal.
Application Note: High-frequency grounding straps must be used to ensure the proper grounding of all inverter-driven induction motor frames.

Include Shaft Voltage Testing in the commissioning requirements to verify and document that the specifications were followed:

The AEGIS Shaft Voltage Tester OSC-9100 series is specifically designed to quickly and easily take and document shaft voltage readings on operating motors. The technician simply touches the motors spinning shaft, records and saves the shaft voltage readings and stores them in the motor's file.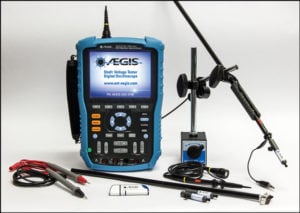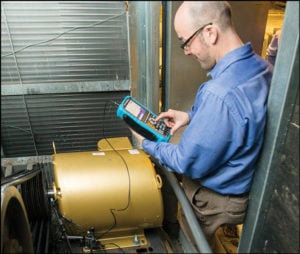 To learn how to specify shaft grounding for bearing protection, see this whitepaper, which includes several samples of specification for long-lived shaft grounding rings.