See you at Booth 235 - EASA in Milwaukee
Join us in Milwaukee, Wisconsin at EASA-2018! A Great Lakes city with lots to celebrate - including the New 2-Year Motor Warranty on All AEGIS® Ring Installations!
For the first time ever, AEGIS offers a 2-year extended warranty against fluted bearings on any AC induction motor when a Shaft Grounding Ring is installed in accordance with AEGIS Best Practices — any size motor, low- or medium-voltage, new or repaired. We'll be unveiling the new warranty at the 2018 EASA Convention in Milwaukee on June 25th-27th.
Warranty coverage for All AC Induction Motor Repairs:
Low Voltage NEMA and IEC Frame Motors
Motors above NEMA frame
All Medium Voltage Motors
All AEGIS PRO ring installations
Coming soon is the easy-to-use AEGIS Mobile-Enabled Registration Portal. We will have a fully functional live demo at our booth, #235!
This new warranty program from AEGIS will give your motor repair businesses the ability to register any AEGIS installed motor repairs and any new motors with AEGIS rings for your customer!
Your customer then only needs to do a simple motor record transfer.
Every shaft grounding ring sold will come with an "AEGIS Installed" sticker with QR code. Scan the QR code or go to est-aegis.com/warranty to register the motor.
While at the EASA Convention
Every year there are new and exciting products to see, technical education, fun events, important EASA meetings, EASA banquets, and of course the not to be missed Motor Manufacturer's Parties!
New Product Theater
This year, we will be presenting the AEGIS Extended Warranty at EASA's New Product Theater on Monday the 26th.
1:00 - 1:20 pm
AEGIS Shaft Grounding Ring:
Guaranteeing Optimal Bearing Service Life with new AEGIS Installation App - Presenting the new 2-Year Extended Bearing Warranty
See you at #EASA2018!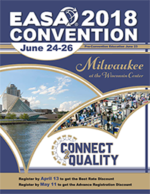 Click to download or view the full convention schedule of events.

Shaft Grounding Rings
,
Trade Shows
,
Shaft Voltage Damage
,
Electrical Bearing Damage
,
2-Year AEGIS Warranty
,
2-Year Bearing Warranty
,
Motor Bearing Repair
,
AEGIS Shaft Grounding Rings
,
AEGIS Rings
,
Motors on VFD
,
Medium Voltage Motors
,
VFD
,
Motors with AEGIS Installed
,
motor bearing protection
,
Best Practices
,
Motor Repair
,
EASA