Public Works Manual: Save Pump Motors from VFD-induced Damage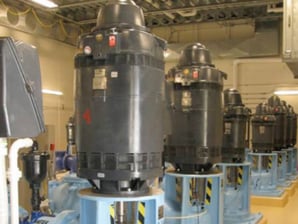 The 2013 Public Works Manual featured a case study on a reverse osmosis plant whose vertical pumps suffered repeated bearing failures. The failures were due to the variable frequency drives (VFDs) used to power the pumps. VFDs can cause electrical current to flow through motor bearings, eventually causing fluting damage and bearing failure.
It took the plant two years, but they finally found the solution to their chronic fluting problem: carrier insulation and AEGIS® Shaft Grounding Rings. After that, the pumps ran for years without failure.
"If you install the rings beforehand, you avoid these problems altogether...
The cost is insignificant when you look at the total cost of a large project."
To learn more, read the full article.