5 Reasons to own an AEGIS Shaft Voltage Tester
Having the Right Test Equipment is the Key to Success when Testing Electric Motors for Shaft Voltage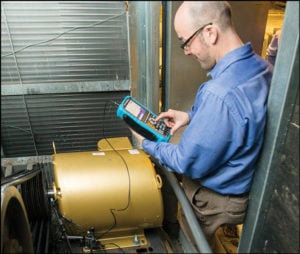 The AEGIS® Shaft Voltage Tester is a 100 MHz oscilloscope that's ready to take shaft voltage measurements after following the setup procedures from the AEGIS Bearing Protection Handbook. It includes everything you need to test voltage levels on the spinning shaft of a motor and displays shaft voltage readings on its 5.7" TFT LCD color display as soon as you touch the motor shaft with the specially designed AEGIS Shaft Voltage Probe. With two BNC connectors for probes and standard multimeter inputs, the unit combines an oscilloscope, multimeter, and recorder functions in a single unit.
The scope comes with two probes with 1:1 and 10:1 settings. One of the probes is equipped with a special conductive microfiber tip for exceptional shaft contact. The unit also comes with a probe holder with a magnetic base and a compact carrying case.
Digital Oscilloscope with advanced functions: This 2-channel O'scope has sampling rates of 1 GSa/s to 50 GSa/s, and a 5-hour rechargeable/replaceable lithium-ion battery pack. The oscilloscope accommodates standard setup interfaces, including a removable flash drive for easy image capture and storage.
A special AEGIS One-Touch™ screen capture feature allows recording readings with a push and hold of just one button. Simply pushing and holding the "Save" button for 6 seconds captures screen images to a USB drive, simplifying data collection for reporting/analysis and eliminating the need to plug the scope into a computer.
The AEGIS Shaft Voltage Tester Digital Oscilloscope can be configured for a variety of languages including English, French, German, Russian, Spanish, Simplified Chinese, Traditional Chinese, Portuguese, Japanese, Korean, Italian, and Arabic.
Replacement probe tips and spare batteries are also available. All AEGIS oscilloscopes are available with a 2-year extended warranty. For more information on the AEGIS Shaft Voltage Tester Digital Oscilloscope, click here.