Marathon Motors with Bearing Current Protection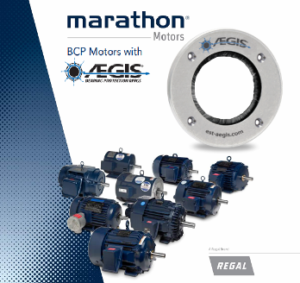 In its long history, Marathon Motors has seen some changes. When they produced their first washing machine motor in 1913, wireless meant staticky AM radio and "motored vehicles" had not yet displaced the horse-drawn carriage. Now, 100+ years later, most kids have never seen a horsecarriage, but they can use wireless to find a picture of one. So times have changed, but Marathon is still doing what they've always done: Making high quality motors to fill the needs of the changing world around them.
One big change has been the shift from powering motors across the line to controlling them with various digital controllers like variable frequency drives (VFDs). VFDs are great for precise control, limiting inrush current at startup, and saving energy, but the pulses of voltage they put out can burn out motor stator windings if they're not properly insulated. In response to this new development, Marathon developed their patented MAX GUARD® insulation system, which surpasses the most stringent requirements for winding protection.
But the windings aren't the only part of the motor that's vulnerable to damage by VFDs. VFD output can also create a voltage difference between the motor shaft and ground. That voltage often discharges through the motor bearings, and this current flow through the bearing causes electrical damage and eventual bearing failure. A failed bearing requires the expense of repair or replacement, plus the greater expense of unscheduled downtime. But not to worry: Marathon has a solution for bearing currents, too.
Marathon's Bearing Current Protection (BCP) usually consists of an AEGIS® Shaft Grounding Ring that gives electric current a low- resistance path between the shaft and frame. Rather than arcing through the bearings, currents flow harmlessly through the ring. AEGIS Rings are available as a mod on all Marathon motors, and are also incorporated standard into many models. AEGIS BCP comes stock in:
General Purpose NEMA Premium Efficiency XRI Motors in ODP and TEFC frames
Blue Chip NEMA Premium XRI Explosion Proof Motors
Blue Max Vector Duty Motors
Blue Chip NEMA Premium XRI-SD Severe Duty Motors
Blue Chip NEMA Premium XRI-841, IEEE-841 Motors
Blue Chip TEAO Cooling Tower Motors
ALL Blue Max Vector Duty Motors and TEAO Cooling Tower Motors include AEGIS. For the other groups, only motors whose catalog numbers end with "-P" have BCP. For part numbers of each motor line, click on the links above. Or you can easily find all Marathon Motors with AEGIS inside at Industrial Matrix.
AEGIS Rings also come with a 2-year extended warranty against bearing fluting damage. No other form of protection against VFD-caused bearing damage offers a warranty like this.


To learn more about AEGIS shaft grounding and best practices for electrical bearing protection, sign up for a training. We offer monthly live training webinars, and - pandemic restrictions permitting - we can also visit your facility to review your exact application.