How to Choose a Shaft Grounding Ring - Part 1
We are proud to offer AEGIS Shaft Grounding Rings to fit almost any possible inverter-fed motor system. But the downside of flexibility is complexity. We offer grounding rings in five basic mounting styles, with additional options of solid or split rings and different mounting hardware, making for quite a few options. In this series of posts, we will try to demystify the process of choosing a grounding ring for your motor.

Solid and Split Mounting Rings
Three of our mounting styles are available in solid and split versions, so let's start there. Solid rings can only be installed on a motor while it's out of service. You would use these on a new, yet-to-be-installed motor or a motor that has been disconnected from its load equipment. For in-service motors, you would prefer a split ring. If the motor is already coupled to its equipment, you can open the ring and then close it around the shaft without going through the trouble of disconnecting the motor and load.
Please note that split rings are specially constructed to hold together. We highly recommend against splitting a solid ring in half. A cut ring is likely to fall apart; even if it holds together, its conductive microfibers may fall out.
Clamp-On Mounting Rings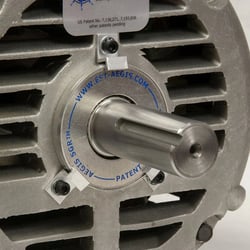 The first mounting style is Clamp-On. These rings come in solid (suffix -1 and -2) and split versions (-1A4 and -2A4), and are held in place by small brackets bolted to the motor face. The only difference between a -1 and a -2 SGR is in the bolts for the bracket. -1/-1A4 come with 6-32 x 1/4 screws (inches), and -2/-2A4 use M3 x .50 x 8 mm screws.
Clamp-On SGRs
Clamp-On SGRs are almost always installed on the outside of the motor. This is a disadvantage in very wet and very dirty environments. And the bolts can't be screwed directly into the motor, so you need to drill and tap threaded holes for them. But clamp-on rings offer a low profile, so they can usually be mounted on close-coupled equipment, and they are the most economical mounting style.
They are available for shaft diameters from 0.311" (7.9 mm) to 6.02" (152.9 mm). Like all SGRs except for uKITs, you must measure the shaft diameter where the ring will sit, and there must be at least 3/8" (9.5 mm) length of shaft available.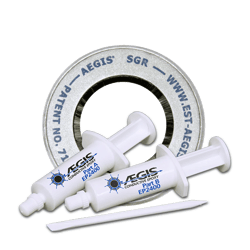 Epoxy-On Rings
Like clamp-on rings, Epoxy-On rings come in solid and split versions, with suffixes -0AW and -0A4W. Their big advantage over clamp-ons is that they don't require drilling and tapping the motor. Instead, you can just grind off the paint on the motor face where the ring will sit, mix the two-component conductive epoxy, apply it to the motor face, and then apply the ring. These SGRs' ease of installation, especially the split style, makes them popular with maintenance staff and electrical and HVAC contractors.
AEGIS Shaft Grounding Rings also have a 2-year extended warranty against bearing fluting damage. No other form of shaft grounding offers a warranty like this.
To learn more about AEGIS shaft grounding and best practices for electrical bearing protection - for motors and generators - sign up for a training. We offer monthly live training webinars, and we can also visit your facility to review your exact application.