Preventing Downtime and Spoilage in Paper Mills
Protect Pulp and Paper Plant Motors from VFD-Caused Bearing Failure and Prevent Downtime
Papermaking is very demanding. To ensure tight control over critical process parameters, many times, variable frequency drives (VFDs or inverters) are used to control motors. These drives control the motors driving all manner of pumps and fans, grinders, winders, re-winders, and a host of related equipment.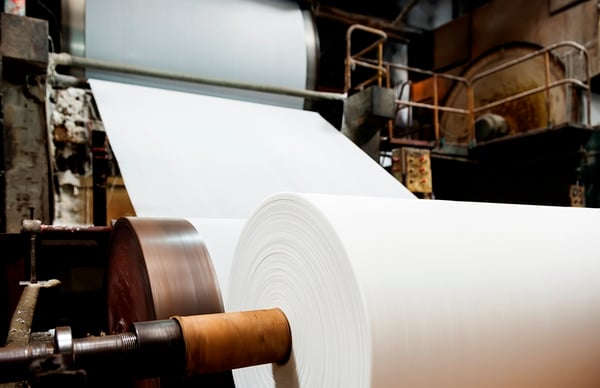 Downtime in paper plants due to VFD-induced motor bearing damage is extremely costly, not only regarding repair costs for equipment but also lost production.
Potential (but Avoidable) Pitfalls
But while VFDs allow precise control of motor speed or torque, they also damage motor bearings and cause costly unplanned downtime. These drives create voltage on the shafts of the motors they control—voltage that discharges through the motor bearings. The resulting electrical bearing damage causes bearing failure and stops production.
So, the VFD technology employed to improve papermaking processes also causes damage that shuts them down instead! These preventable bearing failures cost hundreds of thousands of dollars in damaged equipment, repair costs, and lost production.
AEGIS PRO Series Ring
AEGIS®Shaft Grounding Rings protect motor bearings (and coupled equipment) by channeling shaft voltage discharge currents away from bearings safely to ground.
The AEGIS PRO Series design provides reliable shaft grounding for large AC and DC motor-driven applications to divert harmful shaft voltage to ground and extend bearing life.
Best Practice
To follow best practices, install the AEGIS PRO Ring on the drive end of the motor, to discharge induced shaft voltage to ground, and insulate the bearing on the opposite end to interrupt high-frequency circulating current. Large motors often have much higher induced shaft voltage and bearing current. The six circumferential rows of conductive microfiber provide extra protection for these high-current applications.
Designed for:
Large frame low-voltage motors: 500 HP (375 kW) or greater
Medium-voltage motors
DC motors: 300 HP (225 kW) or greater
AEGIS PRO Series Rings provide the high current carrying capacity needed for larger and medium-voltage motors. By preventing extremely costly process downtime, AEGIS Rings generate an impressive return on investment.
For smaller HP motors, use AEGIS SGR Rings (with 2 rows of fiber) to discharge capacitively-induced shaft voltage. Note that insulated bearings at the opposite end from the AEGIS ring are still needed on motors over 100 HP, because of the risk of high-frequency circulating current in all VFD-driven motors over 100 HP.
Motors up to 100 HP are not at risk of HF circulating current; therefore, only an AEGIS SGR is needed.

More Information
For a case study on installing AEGIS PRO Series Rings at a paper plant, click here.
At Electro Static Technology, we are so confident in AEGIS Rings that we offer a 2-year extended warranty against bearing fluting damage. No other form of shaft grounding offers a warranty like this.
To learn more about AEGIS shaft grounding and best practices for electrical bearing protection, sign up for a training. We offer monthly live training webinars, and we can also visit your facility to review your exact application.