Without Bearing Protection Motors Can Fail
VFD-induced shaft voltages damage motor bearings and shorten motor life
If you're using variable frequency drives (VFDs) or inverters to control motors, the motors are at risk of electrical bearing damage that can dramatically shorten their lives.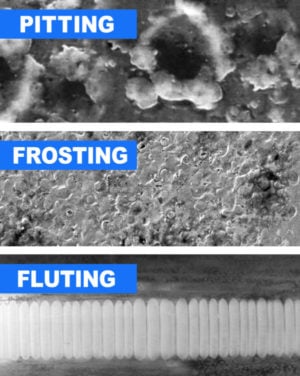 VFDs induce harmful voltages on motor shafts — voltages as 40 volts peak — that can destroy bearings in as little as 3 months!
Through electrical discharge machining, VFD-induced discharges can blast millions of pits in metal bearing surfaces. These discharges burn and contaminate bearing grease, drastically reducing its effectiveness. They also result in fluting, bearing failure, and costly unplanned downtime. And while most motor manufacturers offer "inverter-duty" or "inverter-ready" models, these motors have inverter-rated insulation to protect their windings, but nothing to protect their most vulnerable components — their bearings.
AEGIS Rings also come with a 2-year extended warranty against bearing fluting damage. No other form of protection against VFD-caused bearing damage offers a warranty like this.


To learn more about AEGIS shaft grounding and best practices for electrical bearing protection, sign up for a training. We offer monthly live training webinars, and - pandemic restrictions permitting - we can also visit your facility to review your exact application.