WEG Cooling Tower Motors Are Available with AEGIS Installed
Severe duty is standard with WEG W22 motors. And there are not many environments more severe than cooling towers, whose heat and moisture can quickly corrode less robust motors. But WEG W22 Cooling Tower Motors is more than up to the task, from their cast iron TEFC frames for efficient heat dissipation, to their doubly sealed bearings, to the Class H-insulated magnet wire that protects the motor windings from damage from variable frequency drive output.
But drives can damage motor bearings as well as windings. So that's why WEG has introduced a mod option to add an AEGIS® Shaft Grounding Ring. Without shaft grounding, motors run by drives may fail due to stray currents arcing through the bearings. But with shaft grounding, those currents pass safely through the grounding ring rather than the bearing.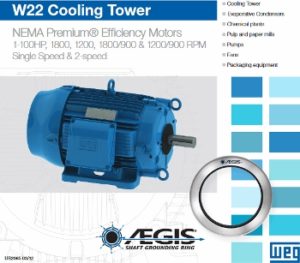 WEG W22 Cooling Tower Motors also come standard with:
A stainless steel nameplate, laser etched for high contrast
Epoxy paint, inside and out
Umbrella seals for IP55 ingress protection
Class H impregnation resin & magnet wire, and the remaining insulation Class F
1.25 service factor
Multiple endbell drainplugs to allow horizontal or vertical operation
To learn more about WEG W22 Cooling Tower Motors, see this brochure.