U.S. MOTORS with AEGIS
110+ Years of Innovation
The United States Electrical Manufacturing Company began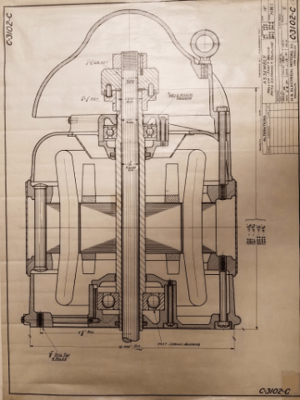 making electric motors in 1908. A lot has changed in the past 114 years, but U.S. MOTORS' relentless drive for innovation is the same.
In 1922, they invented the vertical HOLLOSHAFT® motor that has revolutionized pumping. In 1925 they were the first to make ball bearings standard in all motors. In 1932 they invented the VARIDRIVE® motor, comprising a constant speed motor and variable speed transmission. And so on...
U.S. MOTORS continues to innovate with its Inverter Duty and Vector Duty lines of motors. These motors include robust insulation to protect the windings from damage by VFD control. They also include AEGIS® Shaft Grounding Rings to protect the bearings from shaft voltage discharge.
The full range of U.S. MOTORS with AEGIS rings standard is:
HOLLOSHAFT Inverter Duty:

WPI 10:1 variable torque: 254-447 frame
TEFC 10:1 variable torque: 182-449 frame

UNIMOUNT® Inverter Duty: 143-256 frame
HOSTILE DUTY® Definite Purpose Inverter Duty: 182-447 frame
World Motor HOSTILE DUTY Inverter Duty: 143-447 frame
ACCU-Torq® HOSTILE DUTY TENV Vector Duty: 182-449 frame
ODP Inverter Duty: 143-447 frame
VariTough® Inverter Duty Motors, "VG" part number suffix
AEGIS Rings offer a 2-year extended warranty against bearing fluting damage. No other shaft grounding device manufacturer offers a warranty like this.
To learn more about AEGIS shaft grounding and best practices for electrical bearing protection, sign up for a training. We offer monthly live training webinars, and we can also visit your facility to review your exact application.