US Motors Inverter Duty Hazardous Location Motors with AEGIS®
U.S. MOTORS® hazardous location motors are designed for use on pumps, compressors, fans, conveyors and tools in potentially explosive environments. These motors are built to prevent ignition outside the motor by containing sparks, flashing, and explosions inside the motor casing. They are ideal for many applications in oil and gas, industrial paint and coating, and grain processing operations, to name just a few.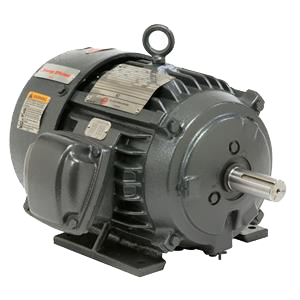 US Motors hazardous location motors are all NEMA Premium® Efficiency with a 1.0 or 1.15 service factor, and meet other NEMA standard requirements. For variable frequency drives, there are also lines of hazardous location Inverter Duty motors. Inverter Duty motors include protection against the side effects of VFD control: electrical damage to the stator windings and bearings.
So Inverter Duty US Motors include an Inverter Grade® insulation system to protect the windings. That is, additional phase paper between coils, extra bracing on end turns, and Insulife 2000 insulation treatment.
The bearings are protected by an internal AEGIS® Shaft Grounding Ring. Larger motors, over 400 NEMA frame, also have bearing insulation at the non-drive end.
With all of these protections in place, US Motors Inverter Duty hazardous location motors are prepared to run safely AND reliably wherever they're installed.
The factory-installed AEGIS Rings also come with a 2-year extended warranty against bearing fluting damage. No other form of protection against VFD-caused bearing damage offers a warranty like this.



To learn more about AEGIS shaft grounding and best practices for electrical bearing protection, sign up for a training. We offer monthly live training webinars, and - pandemic restrictions permitting - we can also visit your facility to review your exact application.