U.S. Motors Inverter Duty World Motors Now Have AEGIS Inside
U.S. Motors' World Motor® line of severe duty motors includes some of the toughest motors out there. World Motors come in four lines: HOSTILE DUTY™, CORRO-DUTY®, 841 PLUS®, and Inverter Duty™. All World Motors are designed to stand up to the harsh conditions in applications from paper mills to waste management. Some of their distinguishing features include a large conduit box that can be connected at multiple places on the cast iron frame; large, dual-drilled feet for sturdy and versatile mounting; and longer fins for better cooling. And now the Inverter Duty line includes AEGIS Shaft Grounding Rings.
The Inverter Duty line is an enhanced version of the HOSTILE DUTY line.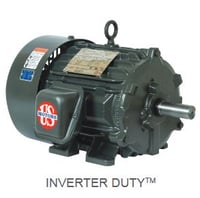 These World Motors include protection against motor damage caused by inverter drives. Inverter Duty motors have an Inverter Grade® Insulation System that meets NEMA MG-1 Part 31. This protects the winding insulation from being damaged by voltage pulses from the drive. The windings are further protected by a Class F thermostat on each phase.
Inverter Duty World Motors also include protection for the bearings. The drive's output creates a voltage on the motor shaft, and that voltage can discharge by arcing through the bearings. Inverter Duty motors include an AEGIS® Shaft Grounding Ring to protect against this. The internally mounted grounding ring bleeds off the shaft voltage before it builds up enough to cause bearing arcing. AEGIS rings are the only product on the market that offers an extended warranty against the electrical bearing damage caused by drives.
Larger Inverter Duty motors, 100 hp and up, also include one insulated bearing. This protects against a second form of inverter-caused bearing damage.
All of these protective measures make Inverter Duty motors more reliable when run on inverter drives. And the price of a motor is only a fraction of its total lifetime cost. So the upgrade pays for itself in reliability and peace of mind. The motors will just work, and that's one less thing to worry about!
You can view the catalog pages for World Inverter Duty Motors here.
Of the four lines of World Motors, only Inverter Duty motors include shaft grounding by default. However, an AEGIS ring can be added to any World Motor, or any other U.S. Motor, through U.S. Motors' mod program. And again: If you're running a motor on an inverter drive, why would you not upgrade for extra, warranteed, reliability?

The AEGIS 2-year warranty


against bearing fluting damage extends the manufacturer's warranty. No other form of protection against VFD-caused bearing damage offers a warranty like this.

To learn more about AEGIS shaft grounding and best practices for electrical bearing protection, sign up for a training. We offer both live webinars and on-site lunch-and-learn trainings.