Toshiba Promotes Motors with AEGIS® Rings at SCF 2017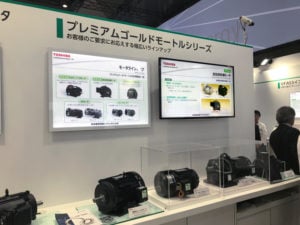 Toshiba recently displayed a number of motors equipped with AEGIS® Bearing Protection Rings in its booth at the System Control Fair 2017 in Tokyo, Japan. Held at the Tokyo Big Site from November 29 through December 1, the show drew over 53,000 visitors during the 3 day period. One of two major trade shows for the motor industry, the SCF show is a "major exhibition of cutting-edge technologies for automation and management".
The biennial SCF show focuses on "technologies, equipment, and systems used in manufacturing" including factory automation control systems, equipment, communication systems, data-com equipment,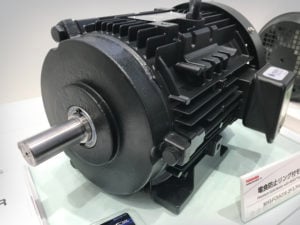 software, actuators, sensors, control components, safety systems, IOT systems, and M2M systems.
Obviously, motors play a huge role in many of these systems and technologies and motor reliability is a key factor in the reliability of factory automation and robotic systems. So important, in fact, that Toshiba made a point to include AEGIS® Bearing Protection Rings on several of the motors displayed at the show and devoted a large flat panel display to educating visitors on the need for and benefit of AEGIS® Rings.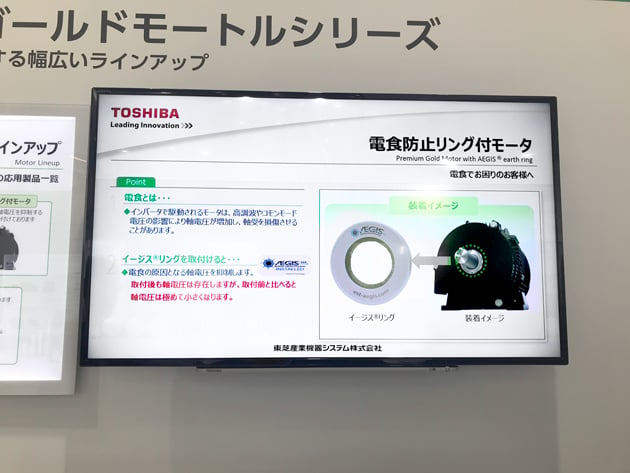 AEGIS® Bearing Protection Rings are sold in Japan by Fukuda Corporation.
Find out more about AEGIS® Rings and the Toshiba motors with AEGIS® Rings installed: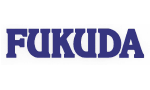 Fukuda Corporation
www.fukudaco.co.jp
Yuta Konishi
Tel: 81-3-5565-6824
Email:
konishi@fukudaco.co.jp