The 2019 AEGIS Distributors of the Year
Each year, Electro Static Technology recognizes its top distributors of AEGIS® Shaft Grounding Rings. This is the eleventh consecutive year that we have honored distributors for their excellence in sales and customer service.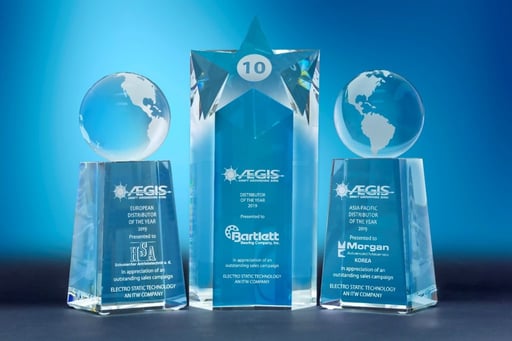 The 2019 USA Distributor of the Year Award goes to Bartlett Bearing Company for its outstanding AEGIS® sales campaign to the motor repair market and its unwavering commitment to world-class customer service. Bartlett Bearing is a family-owned independent national distributor of bearings and electromechanical parts. Through its "Full Circle Solution" Program and its locations in Pennsylvania, North Carolina, Kentucky, Alabama, Florida, and most recently Missouri, Bartlett provides customers with superior products like AEGIS Shaft Grounding Rings, expert advice, and exceptional customer training and service. For more information about Bartlett Bearing Company, visit www.bartlettbearing.com, call (800) 523-3382, or e-mail sales@bartlettbearing.com.
In Europe, HSA Schumacher Antriebstechnik e. K. of Germany is recognized for their outstanding AEGIS® sales campaign and exceptional customer service. As part of the AEGIS Trained Installer Program and a full-service distributor, HSA is committed to serving their customers with expert knowledge and installation of AEGIS Rings. Some of their customers include breweries and beverage manufacturers, food, automotive, stone, chemical industries, public institutions, and many more across Europe. For more information, contact Inh. Ralf Schumacher at info@hsa.de, visit www.hsa.de, or call +49 2683 9460-0.
In Asia, the Electrical Materials Division of Morgan Advanced Materials, located in Korea, was awarded the Asia-Pacific Distributor of the Year Award. Morgan Korea's success Korea's success reflects their commitment to exceptional sales and customer service. They focus on OEM and aftermarket solutions in applications such as marine, rail, wind turbines, specialty machinery, and HVAC/R. For more information on Morgan Advanced Materials Korea, contact D W Lee (dw.lee@morganplc.com), call +82 31 7308 360, or visit www.morganelectricalmaterials.com.
Please join us in congratulating these top AEGIS distributors on their exceptional efforts and performance!
AEGIS Rings also come with a 2-year extended warranty against bearing fluting damage. No other form of protection against VFD-caused bearing damage offers a warranty like this.


To learn more about AEGIS shaft grounding and best practices for electrical bearing protection, sign up for a training. We offer monthly live training webinars, and - pandemic restrictions permitting - we can also visit your facility to review your exact application.