Shortage of Elves Prompts Automation of Toy Production at North Pole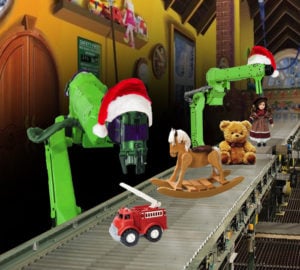 Apparently, Millenial Elves are not interested in pursuing careers in toy making like their parents, and the resulting labor shortage has led Santa to invest heavily in workshop automation.
As a result, Mrs. Claus has initiated a new program of STEM (Santa Teaches Engineering and Math) to entice younger elves to pursue careers in advanced manufacturing and to provide them with the technical skills they will need to meet the world's demand for toys.
A spokes-elf for Mrs. Claus noted, "These younger elves are finding the joy their parents knew in making toys... but with factory automation, they're far more efficient than their parents."
And AEGIS® Rings play a very important role in protecting the motors used in their new automated processes from VFD-induced bearing damage!
Best Wishes for the Holiday Season from
Electro Static Technology/AEGIS®