PRO Rings Protect Roller Bearings in Paper Mill
We have previously written about AEGIS® Shaft Grounding Rings improving reliability in paper mills. Here is a new case study done by the AEGIS distributor for Japan, Fukuda Electric Co.
The calender is a series of rollers in a paper machine that press newly formed paper. Calenders improve the paper's smoothness and glossiness and make its thickness more consistent.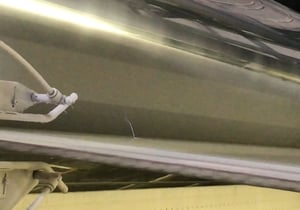 The calender is part of the drying subprocess. Unfortunately, static electricity is generated by the dry paper sliding through at high speed. The voltage of these static charges can reach 20 kV. This static discharges to ground by any path it can find, often through the roller bearings. The image shows an arc of static electricity between a roller and freshly pressed paper (lower center).
Each individual roller in the calender is supported by bearings at both ends. The flow of electricity through the bearings causes deterioration of lubrication and premature damage to the bearing... And a huge expense in downtime when the bearings need to be replaced.
Even if a single self-aligning roller bearing costs only a few hundred dollars, it takes a lot of labor to replace a bearing that repeatedly breaks in a short time. If a paper machine is damaged to the point of an emergency stop, downtime loss can be hundreds of thousands of dollars.
One paper mill in Japan learned this the hard way. Their calender bearings were failing, on average, every 404 days (MTBF), and sometimes after as little as 92 days (minimum failure interval). The mill tried using every antistatic product they could find, but still the failures continued.
The plant manager said, "Initially, I suspected shaft current from the inverter motor and removed the motor that was connected to this roll via a reducer. But still, electrolytic corrosion continued occurring on the bearing base. So I tried disconnecting the reducer from the roll, but still the situation did not improve."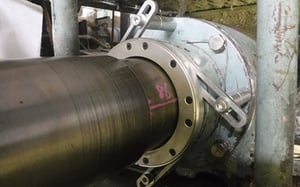 Finally, in May 2020, they tried the AEGIS® PRO ring. They installed one PRO ring on each of the bearing bases that support the rollers. The second image shows a PRO ring installed on the bearing base.
The AEGIS PRO Shaft Grounding Ring, developed by Electro Static Technology, in Maine, USA, electrically connects a machine's rotating parts to their stationary parts. This is done with thousands to millions of conductive microfibers placed positioned around the entire circumference of the shaft or roller. AEGIS rings are most often used on motors controlled by inverters (variable frequency drives). Rather than arcing through the bearings, any charge on the rotating element travels to the frame through the low-resistance AEGIS ring.
As mentioned above, before May 2020, bearing replacement was carried out frequently, with an average failure interval of 404.4 days and a minimum of 92 days. As of October 2022, the failure interval is over 850 days... and counting!
The plant manager summarized, "Although we tried to incorporate other antistatic products, we did not make much improvement. Now it has been two years since we installed the AEGIS PRO ring on the bearing bases at both ends of the roll. There has been no abnormal noise or vibration, and the machine has run smoothly, which is very helpful."
Extending the life of the two bearing bases that support the rotating rolls can significantly increase the entire paper machine's reliability.
AEGIS Shaft Grounding Rings have a 2-year extended warranty against bearing fluting damage. No other form of shaft grounding offers a warranty like this.
To learn more about AEGIS shaft grounding and best practices for electrical bearing protection, sign up for a training. We offer monthly live training webinars, and – pandemic restrictions permitting – we can also visit your facility to review your exact application.
This blog post is adapted from the original article in Japanese.