New Flowserve Bearing Gard™ with AEGIS® Protects Against Contamination and Electrical Bearing Damage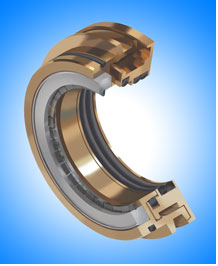 Specially designed for VFD-driven motors in harsh washdown and processing environments, Flowserve's new Bearing Gard™ bearing isolator protects against both contaminant ingress and VFD-induced electrical bearing damage. The isolator's unique design offers both static and dynamic protection against contamination ingress. A unique double drive ring design, an innovative static labyrinth shut-off, and an oversized contamination channel provide superior protection against harmful contaminants. And Bearing Gard's built-in AEGIS® Bearing Protection Ring channels VFD-induced shaft voltages away from motor bearings and safely to ground.
Bearing Gard™ Bearing Isolators are available from stock in standard and slimline versions for motors with shaft diameters of 0.875 - 6.000 inches (23 - 152mm). Custom sizes are also available.
For more information on Bearing Gard™ Isolators with AEGIS® Bearing Protection, click here.