New Baldor-Reliance Food Safe Motors with AEGIS
Washdown motors must be, above all else, safe, cleanable, and reliable. Baldor-Reliance® Food Safe motors are all three. In fact, they just got even more reliable: They now include an AEGIS® Shaft Grounding Ring for protection against electrical bearing damage.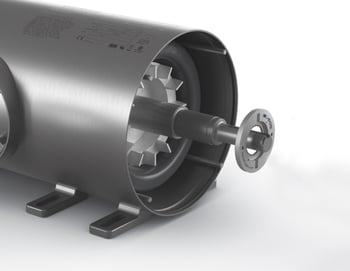 These motors are suitable for applications from food processing to water treatment. They stand up to sanitary and high pressure washdown, and caustic cleaning chemicals. Among their many protective features, these motors are smooth. Every angle is carefully engineered to facilitate cleaning and prevent food and other organic matter from getting trapped.
But they're not only protected from external hazards. They are also well-protected against internal damage from VFD control. They have a class H insulation system to protect against winding damage. And an internal AEGIS Shaft Grounding Ring protects the bearings against shaft voltage discharge.
Inside and out, Baldor-Reliance Food Safe motors are up to whatever task you put them. For more details, see the manufacturer's Product Note.
Food Safe motors come with a 3-year warranty. On top of that, AEGIS Rings offer a 2-year extended warranty against bearing fluting damage. No other form of protection against VFD-caused bearing damage offers a warranty like this.
To learn more about AEGIS shaft grounding and best practices for electrical bearing protection, sign up for a training. We offer monthly live training webinars, and - pandemic restrictions permitting - we can also visit your facility to review your exact application.