New AEGIS-Installed Motor Catalog
Over the past twenty years, variable frequency drives (VFDs) have been used to control more and more electric motors. Advanced drives offer benefits like energy savings and precise control of motor speed. But as drive technology advances, motor technology must keep up to avoid the damaging side effects of VFDs like shorts in the stator windings and bearing damage.
The winding problems have been all but solved with Class F or H insulation now standard in most motors. And fortunately, many lines of electric motors now include factory installed AEGIS® Shaft Grounding Rings to protect against electrical bearing damage. But how do you find what motors have AEGIS protection?
Some motors with AEGIS are easier to identify than others. For example, WEG Electric created both a webpage and a brochure that encompass all of their NEMA motors with AEGIS to help you find and select the motor you need. But it has not always been so easy... until now.
There are now a few all-inclusive ways to find stock motors with AEGIS factory-installed. Electro Static Technology, the maker of AEGIS rings, has compiled two thorough resources: First, there are individual motor manufacturer pages.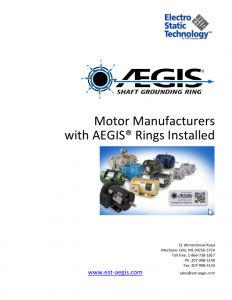 More recently, we assembled a mini-catalog of all motors that come with AEGIS rings installed standard. The listings include features, details, and part numbers. Whether you need a general purpose or specialty motor - like cooling tower, washdown duty, vertical hollow shaft, or explosion proof - they're all in this catalog. The brands that offer AEGIS-installed standard include:
Baldor (ABB Motors & Mechanical)
WEG Electric
Marathon & LEESON (Regal Beloit)
TECO-Westinghouse
US Motors (Nidec)
GE Industrial Motors (Wolong)
You can also find these motors on industrialmatrix.com. This searchable database has the added benefit of letting you compare up to five motors side by side.
Whatever type of motor you need, you can probably find it with AEGIS installed standard. And if you can't, most of these manufacturers also offer AEGIS shaft grounding as a modification.
AEGIS Rings also come with a 2-year extended warranty against bearing fluting damage. No other form of protection against VFD-caused bearing damage offers a warranty like this.


To learn more about AEGIS shaft grounding and best practices for electrical bearing protection, sign up for a training. We offer monthly live training webinars, and - pandemic restrictions permitting - we can also visit your facility to review your exact application.