Marathon Explosion-Proof Motors Available with AEGIS Rings Factory-Installed
Marathon Electric offers the industry-leading line of Hazardous Duty™ Division 1 Explosion Proof, NEMA Premium® XRI®, Class I and II, Groups C, D, F & G motors. Marathon's unique design, combined with AEGIS® Shaft Grounding Ring technology and Marathon's work with Underwriters Laboratory (UL), minimizes the risk of bearing damage. Marathon's "BCP" System, featuring the AEGIS Ring, meets all UL requirements while protecting the motor bearings.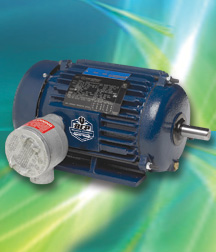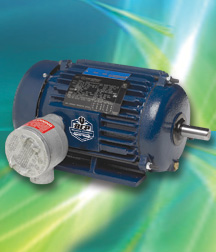 With the growing emphasis on energy savings, process engineers, as well as plant maintenance personnel, have turned to variable frequency drives (VFDs) to improve process reliability, uptime, and safety (particularly in hazardous locations) for critical applications. Using VFDs also reduces the energy consumption of the electric motors in their facilities.
It is well documented that the common mode voltage of VFD output can contribute to bearing failures in drive/motor systems. Unfortunately, unexpected bearing failure can offset much of the savings initially anticipated by the use of VFDs. Effective shaft grounding helps prevent the destructive effects of common mode voltage in these critical applications, facilitating maximum energy savings and reliability.
The option of the AEGIS shaft grounding rings factory installed in these motors is available across the entire product line and comes in stock through 50 HP. The Marathon XRI Explosion Proof Severe Duty motor with "BCP" provides maximum energy savings potential when used with VFD's, enhanced reliability and uptime, and the "peace of mind" end users demand from their motor/drive systems. Marathon is the only supplier of Division 1, Class I and II Explosion Proof motors with factory-installed AEGIS long-term bearing current protection from VFD-sourced damage!
The Marathon XRI Severe Duty Explosion Proof motor is UL Listed and CSA Certified for use in virtually any hazardous process application. The product features cast iron construction, epoxy interior and exterior paint, Max Guard insulation system, precision balance, thermostats and a generous 3-year warranty.
For more applications information on how you can protect your motors from electrical bearing damage download the AEGIS Best Practices Handbook.