How to Choose a Shaft Grounding Ring - Part 2
In Part 1 of this series on selecting an AEGIS Shaft Grounding Ring, we discussed solid vs. split ring design, clamp-on, and conductive epoxy mounting. Those rings are all meant to be installed on the outside of an electric motor. This time, we'll look at mounting options for installing the grounding ring inside the motor.
Why Install an AEGIS SGR and Mounting Options
Installing an AEGIS SGR inside a motor is the best choice in most situations. Inside the motor, the ring is protected from water, dust, grease, and other environmental contaminants. The most common mounting options for internal installation are bolt-through and press-fit.
Internal Installation
Internal installation is the best option, but it is not necessarily easy. These methods are used mainly by motor repair companies and manufacturers who factory-install AEGIS rings in their motors. For the most part, these are not rings end users would install themselves.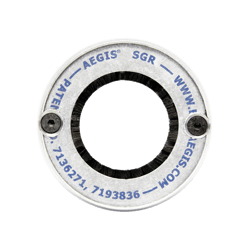 Bolt-through SGRs
Bolt-through SGRs have two or four bolt holes in them to allow them to be directly bolted to the motor without any mounting clamps or brackets. There are a few part number suffixes for bolt-through rings: -3FH rings come with 6-32 x 1/2" flathead screws, the -3 has M3 x 14 mm cap screws and washers, and the -3MFH has M3 x 12 mm countersunk flathead screws.
Like clamp-on mounting, bolt-through mounting requires drilling and tapping the motor with threaded bolt holes. Because manufacturing them takes additional machining, bolt-through rings are more expensive than clamp-on rings. And just like do-it-yourself split rings, we highly recommend against screwing through a clamp-on style ring. Driving a screw through an ordinary SGR will likely cause the conductive fibers to fall out.
Press-fit Rings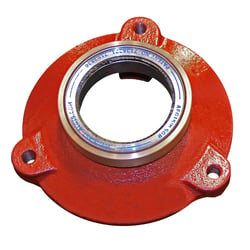 Press-fit rings have a much tighter tolerance in their outer diameter than ordinary SGRs. This increase in precision comes with an increase in cost, but it allows you to press them into an aperture bored into the motor bearing endcap. You can't get a much more secure fit than that!
Boring the aperture is beyond the ability of most end-users, so press-fit mounting is done mainly by motor repair companies and motor manufacturers. The second image shows a press-fit ring installed in a bearing end cap. This work was done in a motor repair machine shop.
AEGIS Shaft Grounding Rings also have a 2-year extended warranty against bearing fluting damage. No other form of shaft grounding offers a warranty like this.
To learn more about AEGIS shaft grounding and best practices for electrical bearing protection - for motors and generators - sign up for a training. We offer monthly live training webinars, and we can also visit your facility to review your exact application.