Explosion Proof Motors Available with AEGIS Shaft Grounding Rings
Not just any off-the-shelf motor can safely run in a potentially explosive atmosphere. Explosion proof motors need to be able to contain any sparks or small explosions that might occur within themselves, and prevent them from getting out and igniting a larger explosion. Motor manufacturers have put thousands of hours into designing these motors to be as safe as possible.
There is an additional design challenge for explosion proof motors that will be run by VFDs. These motors need shaft grounding to prevent electrical bearing damage from the drive. Shaft grounding devices are currently considered to be sparking devices. This means that they can't be installed outside the motor, in a highly flammable atmosphere. And internal installation has its own challenges. A carbon shaft grounding brush can't be used because it wears. This means the brush must periodically be adjusted or replaced.
The UL®-accepted solution is to install an AEGIS® Shaft Grounding Ring inside the motor, outside of the flame path. Unlike carbon brushes, an AEGIS ring typically lasts for the lifetime of the motor. AEGIS rings can be installed according to the UL procedures by a number of motor repair companies.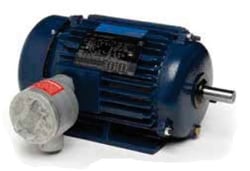 Motor manufacturers can also follow the approved procedures for shaft grounding. In the US, Marathon Motors offers stock explosion proof motors with AEGIS rings factory-installed. And ABB/Baldor offers custom builds of XP motors with AEGIS.
Marathon Motors offers Blue Chip® Hazardous Duty™ NEMA Premium® XRI® motors with AEGIS installed. Models with AEGIS rings have catalog numbers that end "-P".
In Europe, WEG Electric offers optional AEGIS rings inside the W22Xd line of flameproof motors. These motors comply with the ATEX Directives.
AEGIS Rings also come with a 2-year extended warranty against bearing fluting damage. No other form of protection against VFD-caused bearing damage offers a warranty like this.


To learn more about AEGIS shaft grounding and best practices for electrical bearing protection, sign up for a training. We offer monthly live training webinars, and - pandemic restrictions permitting - we can also visit your facility to review your exact application.
AEGIS Shaft Grounding Rings will be on display at the 2019 EASA Convention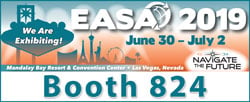 in Las Vegas this June 30-July 2. Stop by Booth 824 and meet the team, see a live demonstration of how AEGIS rings reduce shaft voltage, and pick up a copy of the Bearing Protection Handbook. See you at the show!