Every ABB Super-E Motor with AEGIS Inside, All in One Place
ABB Motors & Mechanical, formerly Baldor Electric, has been offering Super-E Premium Efficiency Motors with AEGIS Shaft Grounding Rings since 2009. Super-E Motors with AEGIS are available in a variety of sizes and styles, and it couldn't be easier to find the right one for you.
A Complete Guide to ABB Motors & Mechanical Super-E® Motors with AEGIS® Rings Factory-Installed
The ABB Motors & Mechanical page on the AEGIS website has links to the product page of every Super-E motor with AEGIS inside. Just select the tab for the style of motor you're looking for - TEFC, ODP, or C-face - and then find the voltage and power rating you need (hp/kW). If you then click the model number, you'll be taken straight to that motor's product page on the ABB website, with full product specs.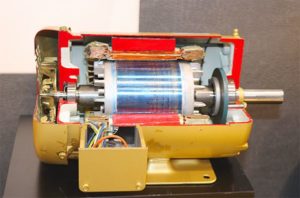 Super-E Motors offer users exceptional efficiencies that meet or exceed NEMA Premium efficiency and are available for blowers, fans, pumps, and other applications using the variable motor speeds enabled by variable frequency drives. The role of the AEGIS rings is to protect these motors' bearings from VFD-related electrical damage, a role they fulfill better and more reliably than other shaft grounding methods.
In 2011, the then-Baldor Super-E Motor with AEGIS inside was named Product of the Year by EC&M Magazine. And they're still running strong.