CSE Webinar: Critical Power: Motors, VFDs, and VSDs
Engineers must understand how the components of the systems they design use power and how they can be optimized without compromising traditional design values. Standard induction motors use (and waste) electricity. Total motor energy usage for the industrial sector outstrips commercial usage by roughly 3:1. To reduce operational costs across all nonresidential buildings, variable frequency drives (VFDs) and variable speed drives (VSDs) are frequently used with ac induction motors that operate pumps, fans, compressors, or similar equipment with variable load profiles.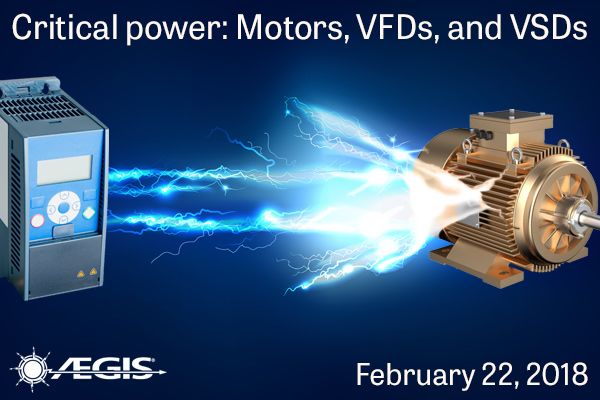 Although engineers have little control over the applicable efficiency standards and codes they are mandated to follow, they are still tasked with designing appropriately sized and functional systems. The adoption of more stringent energy codes and standards has put greater emphasis on energy efficiency in engineering designs. Efficiency requirements will only become more stringent. This webcast addresses the efficiency standards that apply to ac induction motors and the systems in which they operate, load issues, applications, and harmonic mitigation.
Learning objectives:
The audience will understand the requirements of the applicable codes and standards, including ASHRAE Standard 90.1: Energy Standard for Buildings Except Low-Rise Residential Buildings; International Energy Conservation Code (IECC); Energy Policy and Conservation Act of 1975 (EPCA-1975); Energy Policy Act of 1992 (EPAct-1992); Energy Independence and Security Act of 2007 (EISA-2007); and NEMA MG 1-2011 motor standard for manufacturers.
Attendees will learn how load affects the speed range, size, and efficiency of ac induction motors.
Attendees will know when to conduct a comparison of typical VFD topologies.
Viewers will learn how to minimize harmonics typically associated with VFDs.
Presenters:
John Yoon, PE, LEED AP ID+C, McGuire Engineers, Chicago
Ken Lovorn, PE, Lovorn Engineering Associates, Pittsburgh
Moderator: Jack Smith, Consulting-Specifying Engineer, Pure Power, and CFE Media, LLC
Sponsors: AEGIS Shaft Grounding Rings, ASCO Power Technologies, Yaskawa
Learn more about how AEGIS Shaft Grounding Rings protect ac motor bearings from harmful VFD induced bearing currents:
Download the AEGIS Design Engineering White Paper: