Changing Standards: Shaft Grounding in IEEE-841 Motors & Hazardous Locations
Shaft grounding for VFD-fed electric motors has largely been disallowed in "Classified" environments where there's a risk of potentially explosive vapor being ignited. Consequently, many of these motors have been at risk of premature bearing failure due to electrical bearing damage caused by the drive.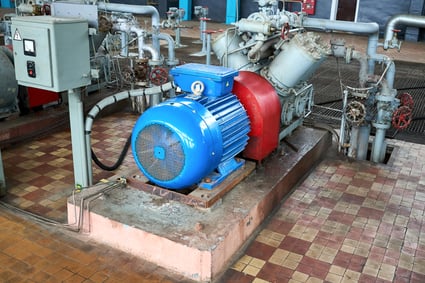 Use of Shaft Grounding Rings in Explosion-Proof Motors
AEGIS® Shaft Grounding Rings have been allowed for years in explosion-proof motors when installed according to UL-approved procedures. Dozens of motor repair companies in the US are qualified to make these installations. Additionally, manufacturers like Marathon (Regal Rexnord), US Motors (Nidec), WEG Electric, and Baldor (ABB) offer XP motors with AEGIS rings factory-installed. XP motors, though, are usually only used in Class I, Division 1 (Zone 1) areas. In Class I, Div. 2 (Zone 2) areas, where the risk of ignition is lower, IEEE Standard 841 motors are usually used. But until recently, 841 standard motors could not use shaft grounding devices, which are considered sparking devices.

Recent Standard and Code Changes
This began to change with the 2017 edition of the National Electrical Code (NEC; NFPA 70). NEC-2017 allowed shaft bonding (grounding) devices in Class I Div 2 locations, provided "the potential discharge energy is determined to be nonincendive for the application." In other words, any potential sparks must not have enough energy to ignite the gases present. The 2018 Canadian Electrical Code contained a similar change.

After these changes, the next revision of IEEE Std 841 allowed shaft grounding in 841-compliant motors. This is good news, and not only for users of motors in hazardous areas. 841 motors are used outside of hazardous areas, too. They are built tough enough to endure hazardous areas, and their protective features contribute to a longer life expectancy than less robust motors. So many motor use them by default.

In hazardous areas, the task still remains to calculate the discharge energy. This task got easier in 2021 with the release of IEE Std 1349-2021. The Working Group for this standard also produced a spreadsheet to facilitate calculating the maximum discharge energy based on details of the motor and drive. This spreadsheet is available for free download at the Standard's webpage (in the Additional Resources section). Although some users complete the calculations themselves, most of the required values are best obtained from the motor and drive manufacturers.



Practically speaking, shaft grounding will usually be permissible in 841 motors in most applications, except when hydrogen (H2) or acetylene (C2H2) gases are present.
For a more detailed review, see our new Technical Bulletin.

This is a lot of information, so to summarize:
IEEE Std 841-compliant motors can now have shaft grounding rings installed in non-classified areas.

In classified areas, the maximum possible discharge energy must be calculated and ensured to be less than the minimum ignition energy of any potential explosive vapors in the area.

Users can perform these calculations with input or help from the motor and drive manufacturers.

Shaft grounding will allow for 841 motors in most situations.

In cases where shaft grounding cannot be used with 841 motors, explosion-proof motors with AEGIS are still an option.
Partnering with Electro Static Technology
AEGIS Rings offer a 2-year extended warranty against bearing fluting damage, in or out of hazardous locations. No other shaft grounding device manufacturer offers a warranty like this.
To learn more about AEGIS shaft grounding and best practices for electrical bearing protection, sign up for a training. We offer monthly live training webinars, and we can also visit your facility to review your exact application.