Baldor's 2020 Catalog Includes Over 100 New Motors with AEGIS
Since 2013, ABB's Baldor Electric has offered Super-E® motors with AEGIS® Shaft Grounding Rings factory-installed to protect against electrical bearing damage. Over the years, their offerings with AEGIS have increased. Now, with the release of their 2020 CA501 catalog, they've almost doubled the number of stock motors with AEGIS. It includes over 120 all-new motors with AEGIS inside.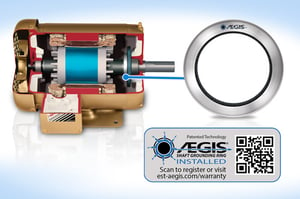 The catalog includes over 100 new general purpose Super-E Motors with AEGIS. These come in TEFC, ODP, and ODP C-face enclosures. The combination of Class H insulation and AEGIS shaft grounding makes these motors fully compliant with NEMA MG1 Part 31.4.4.2. And they're virtually immune to damage from variable frequency drive control. They also come with a three year warranty. Adding in the AEGIS 2-year extended warranty against bearing fluting, that's five years of coverage.
The catalog also features 18 new close coupled pump motors with AEGIS. In addition to Class H insulation, an AEGIS ring, and the warranty, these also have special features like oversized bearings and a locked drive end bearing for mounting flexibility.
You can tell which motors include AEGIS standard by a "-G" at the end of the part number. All "-G" Baldor motors include AEGIS inside, and so do "-5G" and "-8G" models. For non-"-G" motors, an AEGIS ring can also be added as a mod.
AEGIS Rings also come with a 2-year extended warranty against bearing fluting damage. No other form of protection against VFD-caused bearing damage offers a warranty like this.


To learn more about AEGIS shaft grounding and best practices for electrical bearing protection, sign up for a training. We offer monthly live training webinars, and - pandemic restrictions permitting - we can also visit your facility to review your exact application.