Baldor General Purpose Motors with AEGIS Shaft Grounding
Over the past 100 years, Baldor has become one of the best known and most trusted American brands of electric motor. The Baldor story includes several valuable lessons for all manufacturers. For example, innovation in adversity and selling a product on its strengths: Baldor thrived during the energy crisis of the 1970s, because their motors were more efficient than other brands. In fact, in 1976, Baldor was the first motor manufacturer to include efficiency on the nameplate.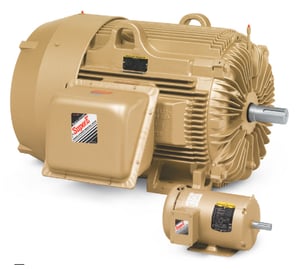 Baldor maintained their motors' efficiency after their 2011 acquisition by ABB. The Super E® line of general purpose motors includes some of the most efficient motors out there. They are available in NEMA frame sizes from 42 to 500, and power ratings from 1/8 to 450 hp. Available mounting styles include foot mounted and several pump motors: C-face (with and without feet), and JM, JP, and West Coast Pump. These high efficiency motors are ideal for a wide range of HVAC and pumping applications.
In many applications, motors can run even more efficiently at reduced speed. This can be done with variable frequency drive (VFD) control. HVAC and pumping applications, particularly, can save energy with VFD control.
VFDs do present a hazard to motor windings and bearings. So all Super E motors include Class F or H insulation systems and Class B temperature rise to protect the windings, satisfying NEMA MG1 Part 31.4.4.2. And models with "-G" part numbers include an AEGIS® Shaft Grounding Ring mounted inside. AEGIS Rings bleed VFD-energized charge off the motor shaft, preventing it from arcing through the bearings.
Between their insulation systems and their AEGIS rings, Baldor Super E "-G" motors are fully ready for VFD control.
So if you need a premium efficiency general purpose motor that can safely be run on VFD, consider a Baldor Super E Motor with the "-G" suffix.
AEGIS Rings also come with a 2-year extended warranty against bearing fluting damage. No other form of protection against VFD-caused bearing damage offers a warranty like this.


To learn more about AEGIS shaft grounding and best practices for electrical bearing protection, sign up for a training. We offer monthly live training webinars, and - pandemic restrictions permitting - we can also visit your facility to review your exact application.