AEGIS Shaft Voltage Testers are on Special Through February!
The AEGIS® Shaft Voltage Tester is the only handheld oscilloscope that comes with everything you need to monitor electric motors for electrical bearing damage from VFDs.
From now the end of February, 2021, the extended warranty AEGIS-OSC-9100-W2 will include, at no extra charge, a magnetic base, probe holder, shaft grounding simulator (to see the effect an AEGIS ring would have on the shaft voltage), and three extra shaft voltage probe tips. These accessories would have a list price of over $350, so this is a great deal. And every Shaft Voltage Tester also comes with a free training from your area AEGIS representative, at your facility.*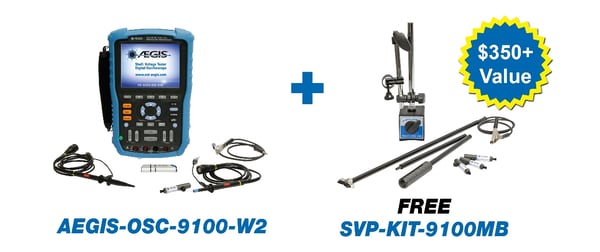 For customers outside of North America, we offer the same deal with the AEGIS-OSC-9100-W2-I, which includes a universal power adapter.
To take advantage of this deal, just contact your local or preferred AEGIS distributor and order an AEGIS-OSC-9100-W2 or -W2-I, and we'll add an SVP-KIT-9100MB at no extra cost. Like most other AEGIS parts, Shaft Voltage Testers usually ship within a day or two, so you can get started testing shaft voltage without delay.
AEGIS Rings also come with a 2-year extended warranty against bearing fluting damage. No other form of protection against VFD-caused bearing damage offers a warranty like this.


To learn more about AEGIS shaft grounding and best practices for electrical bearing protection, sign up for a training. We offer monthly live training webinars, and - pandemic restrictions permitting - we can also visit your facility to review your exact application.
*Pandemic-related travel and safety restrictions permitting.