AEGIS Shaft Voltage Tester with ISO 17025 Calibration
The AEGIS® Shaft Voltage Tester™ is a CAT II/III digital oscilloscope that includes everything you need to test voltage levels on the spinning shaft of a motor — an oscilloscope with advanced functions, a probe with special conductive microfiber tips for exceptional shaft contact, a probe holder with a magnetic base, and a compact carrying case.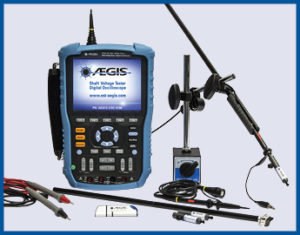 For some applications, an oscilloscope must be calibrated according to the requirements of a standards organization, like ISO or ANSI. We now offer an AEGIS Tester™ that is ISO 17025 certified.
Part Number: AEGIS-OSC-9100MB-W2-IC
For more information see our brochure or visit the AEGIS Tester product page.