ABB Launches AEGIS Shaft Grounding Ring Option Code VC588 for IEC Motors
ABB's new Variant Code for IEC Low Voltage Motors (VC588) uses AEGIS® Shaft Grounding Rings installed inside the motors to mitigate the effects of bearing currents. In various publications, ABB has described the phenomenon of bearing current as follows.
Bearing currents can be divided into four different categories:
Electrostatic discharge currents (EDM)
Capacitive bearing currents
Circulating currents
Rotor ground currents
In detail, the three partial mitigation techniques for bearing currents are:
Incorporating an insulated bearing at the non-drive end
Using a common mode filter in conjunction with a VSD
Earthing and cabling of transformer, VSD, motor, and load-train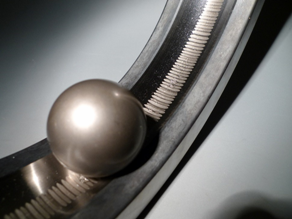 This bearing has been exposed to bearing current. Note the EDM damage to the race track and bearing elements. Photo courtesy of SKF.
How to deal with persistent bearing current issues
The two new enhanced approaches to solving the persistent bearing current problems are:
AEGIS Shaft Grounding Rings installed internally
An important new solution for motors in IEC frame sizes 132 to 250is to install an AEGIS Shaft Grounding Ring that directs the current to ground via the ring, rather than through the bearing. This protects the motor itself and the complete installation. The ring can be pre-installed on new motors by specifying the variant code VC588. Or it can be retrofitted on-site.
Note: AEGIS Shaft Grounding Rings can be installed on all sizes of motors.
Insulated bearings at both the drive and non-drive ends
How can you measure bearing currents?
In most cases, it is difficult for operators to measure any bearing current that might be present on a standard motor. But if bearing currents are suspected they can be detected using special equipment operated by experienced personnel. ABB has developed vast experience in carrying out these measurements on motor and drive installations in a variety of different applications worldwide. You also can use the AEGIS Shaft Voltage Tester, an oscilloscope, to measure shaft voltage and clearly detect the EDM discharge pattern.
Summary: Bearing currents can be avoided
When bearing current is present, there is no "one size fits all" solution. It is vital for the user and motor and drive supplier to work together to identify the most appropriate solution for the specific application. Ensuring the correct use of grounding and connection cables according to best practice will always be an important first step. New solutions in the form of AEGIS Shaft Grounding Rings in combination with insulated or hybrid bearings are now showing significant promise as a cost-effective way of eliminating the potentially harmful effects of bearing currents.