8 Answers to Shaft Grounding Questions - Don't Let Bearing Failures Cost You
Questions and Answers from the Plant Services Webinar, "Motors & Drives: VFDs and Motors -- What You Don't Know About Them Could Cost You"
This Plant Services webinar was presented on 7/31/2018. This seminar is now available on-demand, so click here if you missed it! Or attend our next live seminar listed here.
The following questions were asked by the Plant Services audience, and here are the answers from the presenter [Adam Willwerth]:
1) What are the key considerations when searching for a shaft grounding product?
Answer: Long service life, proven reliability, wear-to-fit design, and millions of discharge points that completely surround the motor's shaft.
Technology Comparison
AEGIS® Shaft Grounding Ring
Spring Energized Brushes; Carbon Block

Maintenance-free after installation

High maintenance from wear, clogged spring and holder, brush dust and shaft glazing

100% circumferential electrical contact, with hundreds of thousands or more points of contact

Minimal contact surface with only 3-10 current transfer points

No replacement needed after installation

Frequent periodic replacement needed because of wear

Ultra-low friction: no spring pressure used

High friction creates wear and requires replacement

Longest life – 200,000 hours

Short life – often less than 6 months

Wear-to-fit design; fibers wear to exactly fit the shaft surface and continue to function indefinitely

Carbon brush wears out; must be replaced

Designed specifically for high-frequency currents

Designed for DC current collector and commutator

Nanogap Electrical Contact transfers electrons to ground in 4 ways

Spring pressure contact only
2.) Will installing 2 insulated bearings prevent bearing damage?
Answer: It depends on the bearings and insulation used.
Ceramic coated bearings: Ceramic coating mitigates about 80% of the current. But because these bearings have low impedance to the high-frequency components of the capacitive EDM currents, an AEGIS Shaft Grounding Ring should be installed on the opposite end of the motor to discharge shaft voltage. This combination has proven almost 100% effective.
Hybrid Ceramic Ball Bearings: 100% effective in stopping current through the hybrid bearing. However, the voltage on the shaft of the motor is now at a maximum and will seek a path to ground through the attached equipment. Therefore, when installing hybrid bearings on both the DE and the NDE, an AEGIS ring should also be installed to discharge these shaft voltages. We recommend installing the AEGIS ring on the DE to discharge capacitive EDM currents and the hybrid bearing on the ODE of the motor to stop high-frequency circulating currents.
Attached equipment: When both motor bearings are insulated, the shaft voltage will be maximized if no shaft grounding is present. This puts attached equipment's bearings at risk. An AEGIS ring installed on the motor will prevent shaft voltages and EDM currents from discharging through the attached equipment bearings.
3) Does any other shaft grounding/electrical bearing protection manufacturer offer warranty against bearing failure?


Answer: AEGIS is the only shaft grounding manufacturer that warrants a motor against bearing fluting damage. We put our money where our mouth is.
Your motor must be registered within 30 days of installation to receive the warranty.
4) Does the AEGIS ring work equally well whether it's installed inside or outside the motor?
Answer: In general, AEGIS rings discharge shaft voltage equally well whether they're mounted inside or outside the motor.
Field installations in most applications are mostly outside the motor while most motor manufacturers install AEGIS rings on the inside.
In high contamination areas and hostile environments like steel mills, paper mills, and other severe duty applications, AEGIS should be installed on the inside of the motor.
5) Does the AEGIS ring work with any type of bearing? Ball, cylindrical, etc.?

Answer: Yes. AEGIS Shaft Grounding Rings divert shaft voltages away from the motor's bearings to ground, regardless of the type of bearing, because they provide the least resistive path.
6) Is the AEGIS SGR approved by motor manufacturers such that it doesn't interfere with the OEM warranty?
Answer: WEG and ABB Motors & Mechanical (formerly Baldor) will cover bearing damage during the normal warranty period, including EDM damage. For detailed warranty questions, contact the motor's manufacturer.
For any AEGIS installation that follows AEGIS Best Practices, you can register your motor for the AEGIS 2-year warranty against bearing fluting damage. (For a new motor, this is the two years after the OEM warranty has expired.)
7) What about Hazardous duty and explosive environments?
Answer:
Class 1, Div 1 – AEGIS is approved by UL for installations inside explosion-proof motors. Marathon Electric offers stock XP motors with AEGIS rings factory-installed.
Class 1, Div 2 – shaft grounding may not be installed because of guidelines and standards such as IEEE 303.
However, you can install an XP motor with AEGIS inside in a Class 1 Div 2 area.
8) The AEGIS grounding ring is a zero maintenance product. What is the life cycle?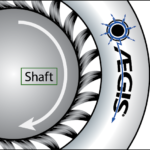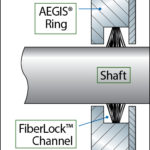 Answer: The AEGIS ring is designed to be a "wear-to-fit" device. Because AEGIS rings operate with virtually zero friction, the fibers wear very slowly, if at all. After 200k hours it may wear to exactly fit the motor's shaft, but it will continue to operate normally.
AEGIS rings more than match the longest L10 life of the bearing which can be 60,000 to 130,000 hours.
9) CS015, AEGIS Colloidal Silver Shaft Coating – What is it and what does it do?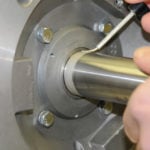 Answer: AEGIS recommends using our colloidal silver shaft coating under the ring's fibers when installing the ring in a repaired motor or in the field. The colloidal micron size engineered silver particles are coated over the shaft surface and are polished into the shaft's machine lines under the fibers. This has the effect of improving the shaft's surface conductivity and inhibiting corrosion/rust of the motor's shaft.