7 More Things You Need To Know About Shaft Grounding
Even More Questions and Answers from the Plant Services Webinar, "Motors & Drives: VFDs and Motors -- What You Don't Know About Them Could Cost You"
1. Shaft voltage meters: Where can someone get one? Can they be rented?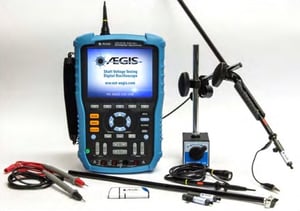 Taking shaft voltage readings is critically important to know what is going on with your electric motor. We sell the AEGIS Shaft Voltage Tester which is a 2 channel, 100 MHz digital oscilloscope with a 5.7" screen and easy screen capture and USB storage. It comes with everything you need to conduct shaft voltage testing including our conductive microfiber probe tips, holders, and a magnetic base. Anyone can purchase a Shaft Voltage Tester from the AEGIS distributor of their choice. Note: The AEGIS Bearing Protection Handbook contains step by step instructions on shaft voltage testing and complete setup of the testing equipment.
2. Can you provide more information about applications where AEGIS rings are installed?
AEGIS rings are installed in every type of application where VFDs are used worldwide. Commercial HVAC, pumps, compressors, conveyors, processing equipment of all types and in all industries from pharmaceuticals to steel mills. AEGIS rings are installed on the smallest shafts of 6mm to the largest motors with shaft diameters of 800mm.
If a motor is on a VFD, then we recommend AEGIS rings.
3. Most vibration analyzers work like an oscilloscope. Could I measure shaft voltage with one of these?
No. Vibration analyzers do not have the bandwidth to read shaft voltages. You need at least a 100 MHz oscilloscope, such as the AEGIS Shaft Voltage Tester, and a shaft voltage measuring kit. That said, vibration analysis will provide predictive data to help plan maintenance actions.
4. Do you recommend the grounding strap on every motor, or only if we have noticed a problem?
Any motor on a VFD should use a high frequency grounding strap from the motor's foot to the facility ground. This type of grounding strap is made from flat braid designed for low impedance at high frequencies. See the ABB Technical Bulletin #5 and other similar sources for additional technical information. It is a good practice and a relatively low-cost improvement to any VFD driven motor system. The AEGIS HFGS is a high frequency grounding strap with one side having a hole punched that fits the motor foot mounting screw and the other end terminated with a ring termination. Stock and custom sizes are available to order.
5. If I buy an inverter-duty motor, does it come with a Shaft Grounding Ring?
Not necessarily. To be called "inverter duty," a motor only needs to have class "F" or "H" insulation. A "true inverter duty motor" should have both the inverter rated windings AND an AEGIS Shaft Grounding Ring factory installed. Manufactures like ABB (Baldor), WEG Electric, Regal Beloit (Marathon and Leeson), TECO-Westinghouse, and GE all have full product lines for general purpose and definite purpose motors.
But since not every "inverter duty" motor has AEGIS installed, make sure you ask and look at the specification. Most manufacturers, including those named above, have modification programs to add an AEGIS ring to any motor. Today, all integral HP motors sold in the US and IEC E3 motors in Europe are manufactured with a minimum class "F" insulation. To make one of these motors a "True Inverter Duty Motor," just add an AEGIS ring.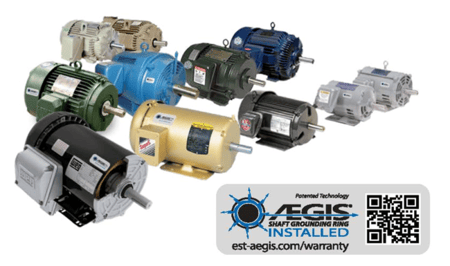 6. How often do you have to replace the shaft grounding rings?


The AEGIS rings should be replaced when you change out the motor's bearings. They are designed to outlast the motor bearing's L10 life with a "wear-to-fit" design which ensures the longest life of any shaft grounding technology.
7. What is the business benefit for low motor rating, like 1 hp (0.75kW) conveyor motors? Is run-to-failure not a good maintenance approach?
This scenario is the "throwaway" motor theory where the motor is small and not worth rewinding and repairing. But the cost to replace even a small motor can be 3x more than the cost of the new motor when considering time, labor rates, downtime costs, and administrative costs. So it makes sense to select a motor that does not fail prematurely.
Even 1 HP (0.75 kW) motors will have bearing fluting damage when operated on a VFD. Running to failure is fine but this failure can occur in weeks to months. So when the motor does fail, replace it with a motor that has the AEGIS ring installed. AEGIS Rings on small motors prevent both lubrication failure in sealed bearings, which can reduce their life by up to 90%, and bearing fluting damage which can occur in as little as 2 months or less.
This topic was discussed in detail, with an ROI analysis, in the blog post "Is there such a thing as a "throwaway" motor? Let's examine…"
AEGIS Rings also come with a 2-year extended warranty against bearing fluting damage. No other form of protection against VFD-caused bearing damage offers a warranty like this.


To learn more about AEGIS shaft grounding and best practices for electrical bearing protection, sign up for a training. We offer monthly live training webinars, and - pandemic restrictions permitting - we can also visit your facility to review your exact application.