The 2018 AEGIS Distributor of the Year
For the third time, Fukuda Corporation is recognized for their outstanding AEGIS® sales campaign and exceptional customer service. Fukuda has been an AEGIS distributor since 2007. Located in Japan, Fukuda is an import firm specializing in mechanical technology.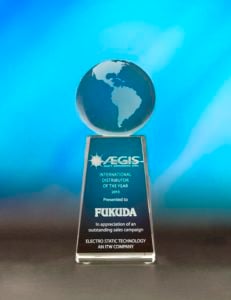 They offer Japanese machine industries unique European- and North American-made accessory parts and equipment for machinery. Their highly trained staff focuses not only on products but on technical training, testing, diagnosing, and troubleshooting. Visit fukudaco.co.jp, contact Yuta Konishi at konishi@fukudaco.co.jp, or call +81-3-5565-6817.
Please join us in congratulating Fukuda for their exceptional efforts and performance!
AEGIS technology is designed for use when variable frequency drives (VFDs) are used to control electric motors. The VFD induces destructive voltages on the motor shaft which discharge through the motor bearings or bearings in attached equipment. These discharges cause fusion craters on the bearing race walls. Over time, this can lead to noise, vibration, bearing failure, and catastrophic motor failure. The AEGIS Shaft Grounding Ring channels these harmful VFD-induced shaft currents safely to ground. A market leader, the AEGIS Ring offers a 2-Year Extended Warranty.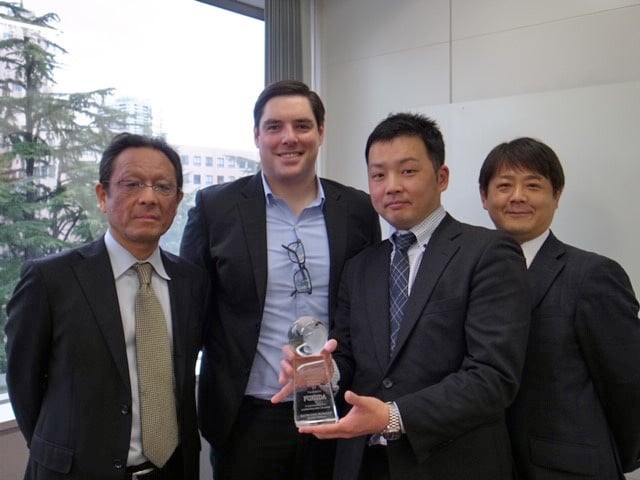 Electro Static Technology is the global leader in the elimination and/or mitigation of induced electrical charges on rotating and moving surfaces. Electro Static Technology manufactures the patented AEGIS Shaft Grounding Ring for electric motors and generators, and is a division of Illinois Tool Works (ITW), a $14.3 billion Fortune 500 diversified manufacturing company with operations in 56 countries.
For more information, contact: Matt Laufik, Global Sales and Marketing Manager, Electro Static Technology, 31 Winterbrook Road, Mechanic Falls, ME 04256, Toll-Free: 1-866-738-1857, TEL: (207) 998-5140, sales@est-aegis.com.